Athletic Physicals for students entering grades 7-12 will be administered in the Multi-Purpose Bldg. (new gym) from 9 am to 3 pm today. Fill out the pre-physical form below.
https://form.jotform.com/210705598388164

Sign up now to play in the Hector Scholarship Foundation Golf Tournament!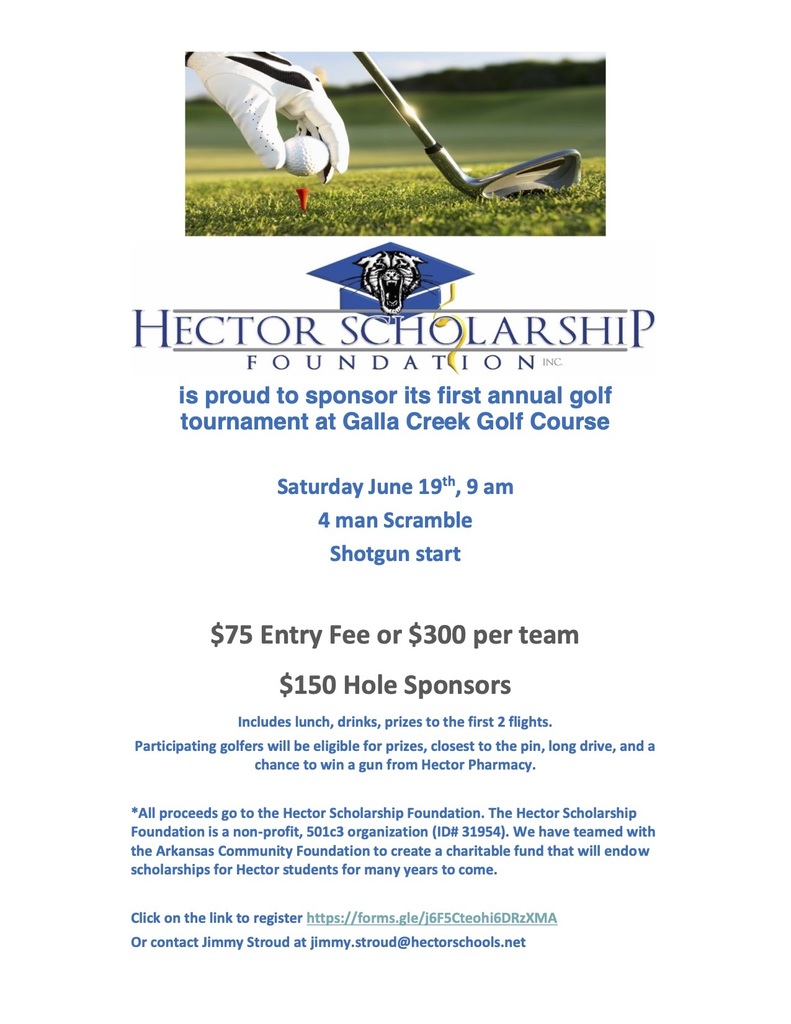 HECTOR — The Hector School Board voted Tuesday during a special called meeting to proceed with a campus security project that will include a high school addition that will create a single point of entry for the school. Superintendent Mark Taylor said the addition will also able to create a better traffic flow for the high school campus. "Currently you drive into the center of campus to get to the high school offices," he said. "We also have a high concentration of students in the area that change classes from fine arts, Physical Education as well as elementary students going to the cafeteria. We want to eliminate traffic inside campus and move it outside of our student areas." The project will include a student courtyard inside campus, new high school administrative offices, a student pavilion, amphitheater style seating inside the courtyard, access control doors throughout campus, security cameras and new fencing. The project will add faculty parking around campus as well. "We are very excited about the project, and I think this will give our campus a facelift and create a much safer environment for our students," Taylor said. Architect Steve Elliot with Lewis Elliott Mcmorran Vadan Inc. led the district in designing the project with student safety in mind. "We have worked with Steve Elliott on several projects, and as always his team has helped build a plan for us that falls within our budget," Taylor said.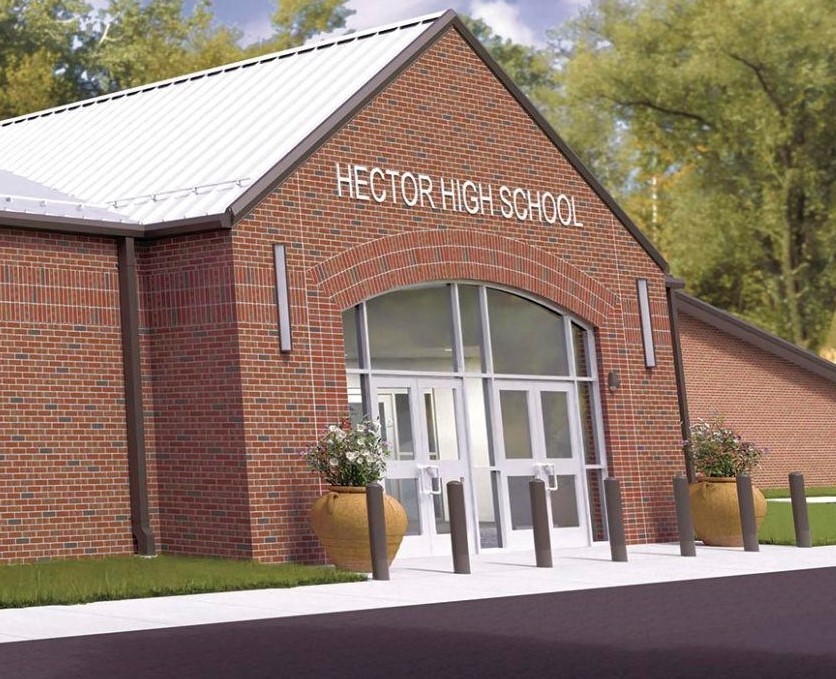 A representative from Jostens will be here next Thursday, April 29 at 9:00 a.m. to deliver senior items that have been ordered & paid for (cap & gown etc.)

Wildcat Fans Senior Boys will play @ Lisa Academy tomorrow night in the Finals of the District Tournament. Unfortunately very few tickets were issued for this game. All tickets went to players to give to parents. We apologize, but it is out of our control. As soon as the livestream link is available we will put that out. Game time is at 5:30. Go Wildcats!!

Back to school on Monday! We will be checking routes this afternoon. There may be areas that we may not be able to run buses, but school will be open for business. If we cannot get to your bus stop, every effort will be made to notify those affected this afternoon.

School will be closed until further notice. Students will be contacted by teachers for assignments this week. Stay safe and warm! Enjoy the snow!! Go Wildcats! Families with immediate needs of food, clothing or shelter please contact us for help. Leave a contact #
help@hectorschools.net
mark.taylor@hectorschools.net

No School tomorrow!! Enjoy an old fashioned snow day students!!

Students and Parents, in anticipation of winter weather we are going to pivot to virtual learning for Thursday. Out of abundance of caution we feel it necessary to make this call at this time. Friday will be a virtual day as well. Teachers will be contacting parents for parent teacher conferences on Thursday and Friday. Stay safe and warm! Go Wildcats!

Tilly and Falling water routes will not run this morning. As the forecast continues to promise wintry mix moving in this afternoon and evening, a decision will be made by the end of the day about school tomorrow. Remember no school Friday for parent teacher conferences. Thank you

We are sending the Tilly bus home at 2:00 today. Parents and students on the mountain, we are anticipating freezing rain and precipitation over the next couple of days. Be prepared for the Tilly bus not to run Wed. and Thursday as well. Students can use virtual days if the bus does not run. Thank You!

Hector Youth final sign-up for Baseball, Softball, and T-Ball will be Thursday, Feb 11 from 5-7 in the old gym. Children must turn 4 by January 1st to play. Please contact Kaycee Riley at 479-280-9960 or Kevin Talkington at 479-964-2629 for any questions.

Tilly bus will not run today due to slick road conditions.

Directions to Lisa Academy for tonight's game: 4600 Briley Rd North Little Rock AR 72117

The Tilly and Falling Water buses will not run today. Students may use a virtual day.

Jr. Boys game at St. Joseph is cancelled for tonight. The Sr. Girls game at St. Joseph will start at 5:30. The Sr. Boys will play immediately following the girls game. Go Wildcats!

Tilly bus will not run today. Those students may use a virtual day. Thank you

Please follow the directions for tickets to the basketball games at Marshall Friday night. You MUST complete the google form for each person attending. Choose the game on the google form you will be attending. Only 4 tickets per player are allowed. 54 tickets for each game will be allowed and the gym will be cleared after each game.
https://docs.google.com/forms/d/1dUeF7GfYg5kd05flHJQ_yl2zSW9gtJbJpvhhAWJsEFA/edit