Bus #12, the deer bus, is running 20-30 min. behind schedule this morning.

Jostens will be here September 1st to meet with Seniors at 10:30. They will then return on September 8th at 10:30 to accept Senior orders.

Parents could you please help us out on a few things: 1) We are asking that if you come up to see a teacher, visit your student or anything else you come through the Elementary or High School Offices. You will be required, if you come past the office, to have your ID swiped and you will be given a visitor badge. Please do not use any other entrance to get on the campus. 2) All students that are dropped off and picked up need to go through the designated car drop off areas. Students are not to be dropped off/picked up at the offices. 3) If you are checking out your student come to the office, sign your student out and they will be called to the office. Thank you for your cooperation on these matters. We know there are a lot of changes but we are doing this to keep our students and staff safe.

5th-12th Grade Parents! Please use the link below to fill out required information for your child. This form will keep you from having to fill out so much paperwork. Unfortunately, there are still some papers that we will be sending home tonight. Thank you!
https://forms.gle/JPDJTDZdRT4FYyKU7

The Office of Emergency Management along with the nuclear response team will be conducting drills at the school tonight. FYI

Please read if you have a child that rides the bus. Morning bus routes should run about 5 minutes earlier than in previous years. Please allow some flexibility during the first few days of school as drivers and students adjust to the new year/schedule.

We've got open house tonight from 5-8! We can't wait to see everyone. Elementary- If you did not receive your teacher letter in the mail, you can go to the office and they will direct you to the correct classroom. High School- Grades 5-12 can pick up schedules in the cafeteria and then visit their classrooms and lockers.

We will be welcoming our teachers and staff back for in-service and professional development tomorrow! Our offices will be closed from 8:30 am to 9:30 am for our district wide meeting. Thanks and Go Wildcats!

Hector School District is opening a Pre-K classroom for the 22-23 school year. Fees are $10 per day to be paid monthly in advance. Registration packets can be picked up starting on Thursday July 21st, from 7:30-3:30 at the Elementary office. Applications will be taken on a first come first serve basis. For more information you can call the Elementary office at 284-3586.

We have to change the 9-12 registration from July 29th to July 27th. New students, and returning 9th, 10th, 11th, and 12th grades will pick up schedules July 27th from 8-3 at the new High School Office. We look forward to seeing you!



Sarah Standridge recently attended the National Beta Convention in Nashville, Tennessee where she competed in on-site art, placing 7th in this national competition. Congratulations, Sarah!

More information regarding our upcoming dates!

Just a reminder!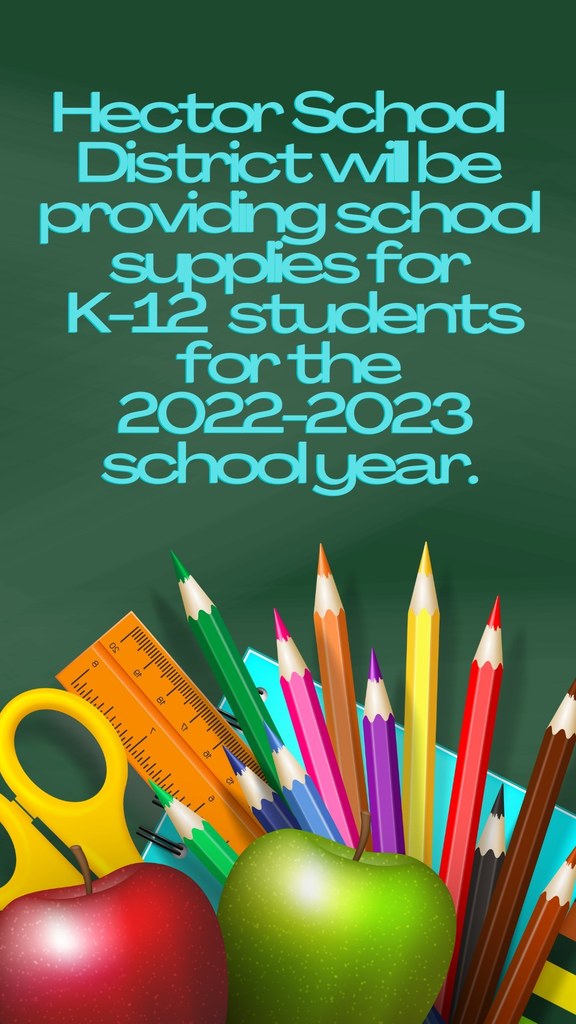 Back to School Information! We can't wait to welcome everyone back!

Reminder: School will dismiss at 1:30 today! Have a wonderful summer break!!

Semester tests begin tomorrow for 9th-11th grade students. 1st and 7th period tests are Tuesday. 2nd, 6th, and 8th are Wednesday. 3rd and 5th are Thursday.

7-11 Grade Awards Ceremony will take place tomorrow at 9am in the New Gym. Parents and families are welcome!

Seniors need to meet in the cafeteria tomorrow morning @ 9:30 with their cap and gown for the senior walkthrough. We will then practice for graduation followed by lunch.