Seniors and parents- Make sure to join us for financial aid night!
Re-takes and make-ups for school day pictures will be taken on Tuesday, October 5th for grades k-11. If your child needs their picture taken or re-taken, please let their teacher know or remind your child that it's picture day! Proofs will be sent out for these pictures for order. Senior cap & gown and drape & tux pictures and football pictures will also be taken tomorrow. Senior pictures will receive proofs. Football players should have an order form.

Mark your calendars!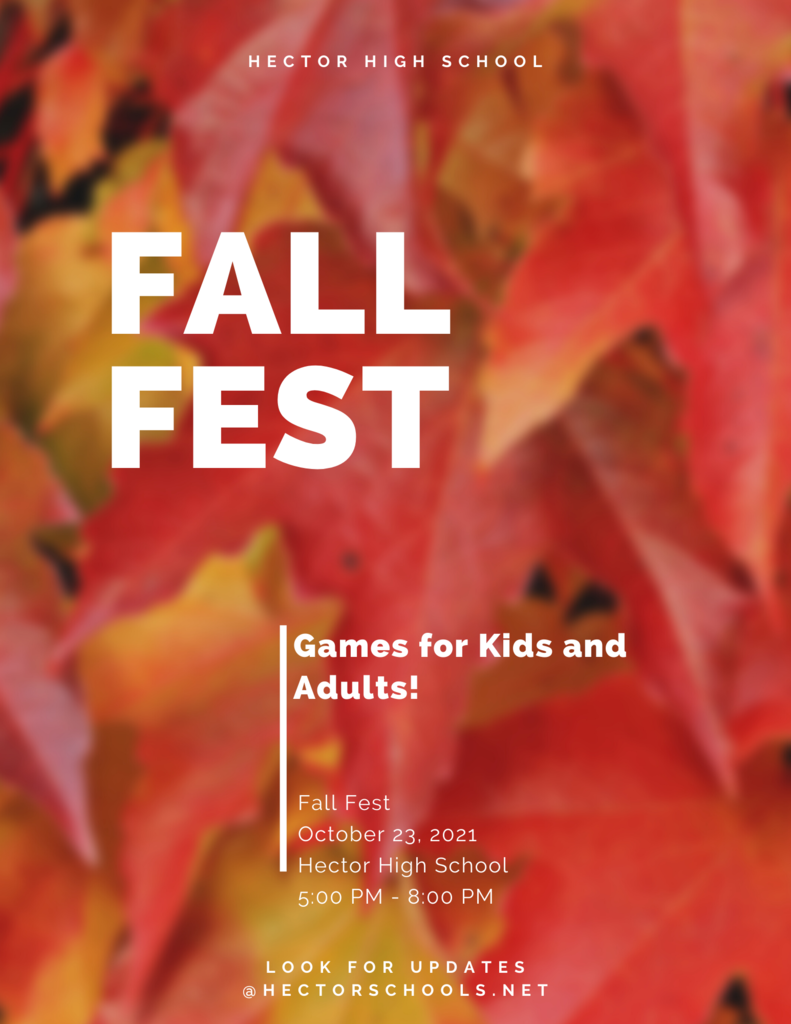 Weekly Covid Report for 9-20-21 Covid 19 DATA Active Cases Hector Elementary K-4= 1 Staff, 2 Students Hector Middle School 5-8 =1 Student Hector High School 9-12= 1 Student Please report any positive cases of COVID-19 in your household to the District Point of Contact 479-880-3102

We hope to see you all next week at Homecoming!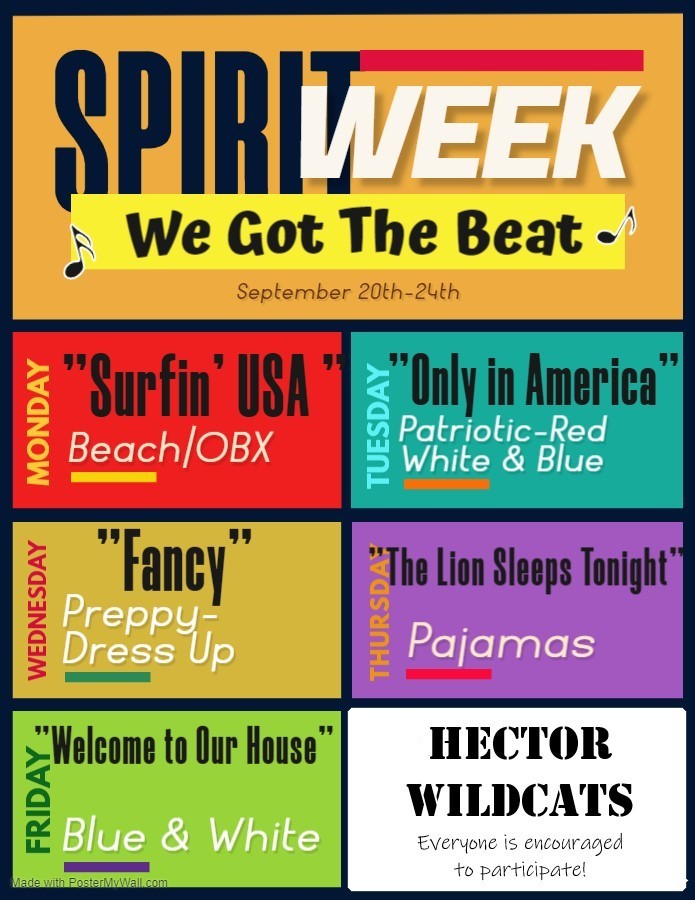 Good news our current active cases have decreased. Thank you for being diligent and keeping kids home when they are not feeling well or showing symptoms. We do have several quarantined students due to close contacts at home. Thank you for reporting those. Please report any positive cases of COVID-19 in your household to the District Point of Contact 479-880-3102 Weekly Covid Case update current as of 9-7-21: Active Cases- Middle school =2 Active Cases High School =2

Due to unforeseen circumstances, senior cap/gown & drape/tux and football pictures have been rescheduled for October 5th. Please hang on to football order forms until then. K-11th grade school day portraits will still be taken on Friday, September 3rd. Please turn in picture order forms on that day. Orders placed after Friday will be charged a shipping fee. Students that are quarantined will have make-up pictures at a later date.

We will have make-up pictures for any students that are quarantined.

Yearbook portraits, senior cap/gown & drape/tux, and football pictures will be taken this Friday, September 3rd. Order forms have been sent home for students in grades kindergarten-11th and all football players. Please return this form with payment on the day of pictures. Any pictures ordered AFTER picture day will be charged a shipping fee. Senior cap/gown & drape/tux pictures do not have an order form. Proofs of pictures will be sent out for purchase at a later date.

Weekly Covid Report as of 8-30-21 11 active cases total 5 Middle School 6 High School Please remember to screen your child each day before school for the following. If your child would be able to answer "yes" to any of these questions, please keep your child home. 1.) Have you had a fever of 100°F or greater in the last 2 days? 2.) Have you had a cough, difficulty breathing, sore throat, or loss of taste or smell? 3.) Have you had nausea, vomiting, diarrhea, and/or rash in the last 2 days? The district Point of Contact (POC) is Michelle Brown 479-880-3102. The Hector School District response to Covid 19 can be found on our homepage or here:
https://core-docs.s3.amazonaws.com/.../Hector_School
...

Hector Junior High will play Dardanelle 8th grade Monday night August 30th at 7:00 pm at Hector. Come out and see the Junior High Wildcats!

School starts tomorrow! Please watch for school buses. Masks are highly recommended but not required at this time. Covid Procedures for Parents/Students DO NOT SEND YOUR STUDENT TO SCHOOL IF: The student, anyone in the household, or anyone the student has been in close contact with is experiencing Covid symptoms or is waiting for results of a Covid Test within the past 48 hours NOTIFY THE DISTRICT COVID POINT OF CONTACT AT 479-880-3102

Due to an increase in Covid cases, open house for Hector Schools will run from 1:30-7:00pm on August 12th. We are trying to mitigate the large numbers from 5-7. Parents and students are welcome to come throughout the day. 7th-12th grades, we are asking for new students only. All 9-12 students can pick up computers, schedules, and parking permits on Tuesday, August 10th from 9-12 and Wednesday, August 11th from 1-4 in the High School Library. You may access parking in the new gym parking lot, the Head Start parking lot, or the First Assembly parking lot. At this time, masks are not mandatory for students in schools. However, the CDC recommends masking for all students.

July 12th Sports Practice Schedule 7TH GRADE AND JR. GIRLS BASKETBALL practice Monday July 12th at 11 AM. Meet the new coach!! Sr. Football Practice Monday at 8:00 am Jr. Football Practice Monday at 9:00 am Sr. Boys Basketball Monday 9:30 am Jr. Boys Basketball Monday 10:30 am

Athletic Physicals for students entering grades 7-12 will be administered in the Multi-Purpose Bldg. (new gym) from 9 am to 3 pm today. Fill out the pre-physical form below.
https://form.jotform.com/210705598388164

Sign up now to play in the Hector Scholarship Foundation Golf Tournament!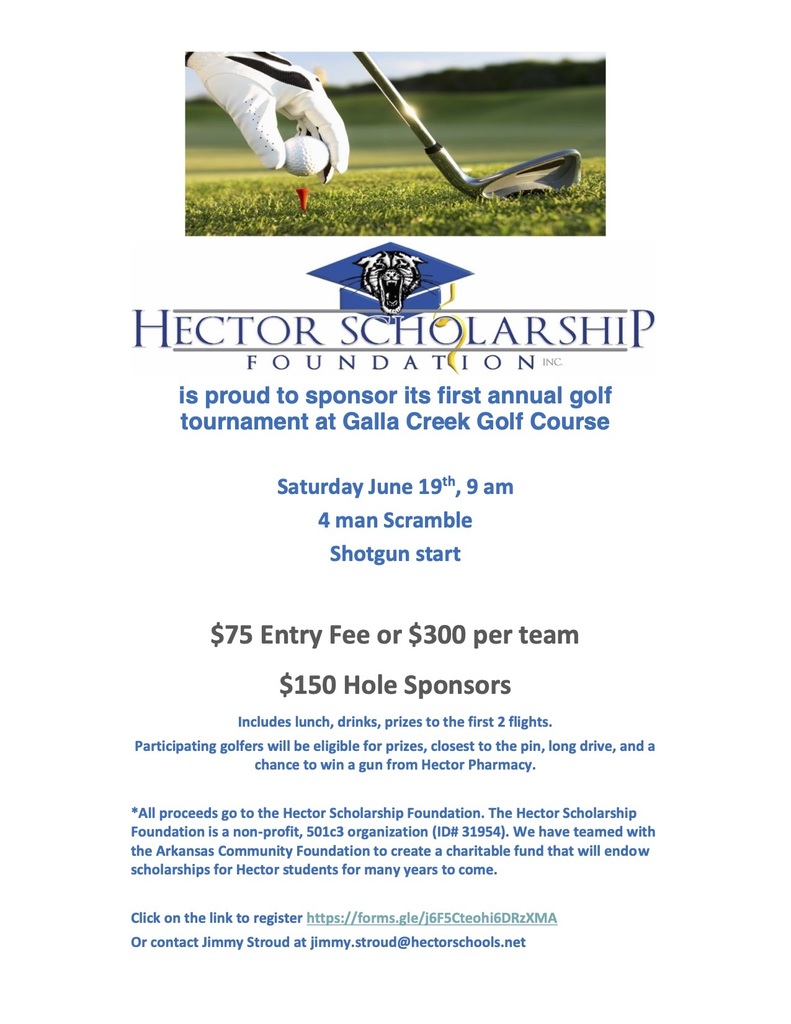 HECTOR — The Hector School Board voted Tuesday during a special called meeting to proceed with a campus security project that will include a high school addition that will create a single point of entry for the school. Superintendent Mark Taylor said the addition will also able to create a better traffic flow for the high school campus. "Currently you drive into the center of campus to get to the high school offices," he said. "We also have a high concentration of students in the area that change classes from fine arts, Physical Education as well as elementary students going to the cafeteria. We want to eliminate traffic inside campus and move it outside of our student areas." The project will include a student courtyard inside campus, new high school administrative offices, a student pavilion, amphitheater style seating inside the courtyard, access control doors throughout campus, security cameras and new fencing. The project will add faculty parking around campus as well. "We are very excited about the project, and I think this will give our campus a facelift and create a much safer environment for our students," Taylor said. Architect Steve Elliot with Lewis Elliott Mcmorran Vadan Inc. led the district in designing the project with student safety in mind. "We have worked with Steve Elliott on several projects, and as always his team has helped build a plan for us that falls within our budget," Taylor said.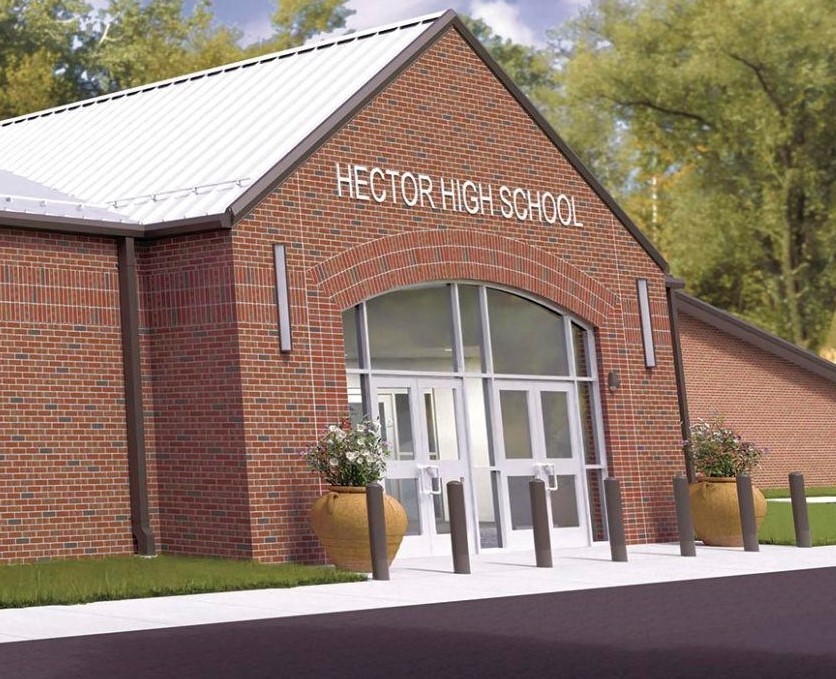 A representative from Jostens will be here next Thursday, April 29 at 9:00 a.m. to deliver senior items that have been ordered & paid for (cap & gown etc.)