Due to construction, pick up and drop off for football workouts will be at the new gym multi-purpose building. Workouts start at 8:30. No Workouts on Fridays! Thank you

Graduation Sunday May 19th 3:00 pm. Congratulations to the Class of 2019!!

Jr. High Athletic cookout is Wednesday after school from 3:15 to 5:00 on the front grounds and old gym. We will serve burgers and hot dogs. This is for grades 7,8 and 9.

Athletic Banquet for grades 9-12 Tuesday May 14th @ 6:00 in High School Cafeteria. Tickets are $10 each.

Wildcats pick up a pair of wins today in Harrison. Baseball wins 23-0 over Decatur and Softball upsets the #1 seed Flippin by a score of 4-1. Both teams play at 1:00 Sunday in the semi-finals. Go Wildcats!

Regional tournament games today at Harrison Baseball 2:00 Softball 4;30 Go Wildcats!

Correction tomorrow game times are: Baseball 2:00 Softball 4:30

Softball and Baseball games for today have been postponed. Baseball will play tomorrow at 2:30 and softball at 4:00 in Harrison. However with more rain expected for tonight and tomorrow, more changes could be coming. Stay tuned for more changes.

The baseball team will play Friday at 5:00 in Harrison. The softball game is scheduled for 7:30. The semi-finals are scheduled to begin at 12:00 on Saturday with the championship game immediately following. If there are further cancellations or delays due to weather, we will send out an updated schedule.

Congratulations to the Wildcat baseball team! They defeated Lavaca 9-0 to win the District Tournament!!

Students and Parents: Don't miss tonight's Whale Inland Project in the Multi-Purpose building!! Students can walk inside a life size replica of the worlds largest mammal and touch and feel whale blubber. Please bring the family! 6:00 tonight!

Baseball games at Conway Christian today have been cancelled.

Mark your calendar and join us for an evening of fun!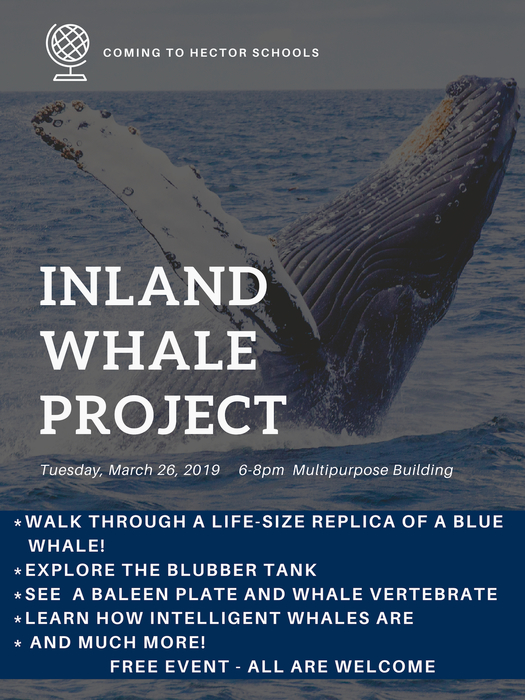 Baseball games vs Lamar for today have been cancelled.

Students and Parents: The Hector School District will be executing a Lockdown drill on Thursday morning at 9:00 am. At this time we will close our campus and no one will be allowed to enter or exit. We expect the drill to be over and resume normal operation by 9:30. Thank you.

Hector girls play Melbourne at Carlisle in the State Tournament Tuesday Feb. 26th @ 4:00. Baseball games for tomorrow have been postponed. Go Wildcats!!

Sr. Girls beat Flippin and earn a birth to the State Tournament!! They play at 4:00 Friday Feb. 22nd at Danville in the Regional semifinals!! Go Wildcats!

We are sending Tilly bus home at 2:00.

Early Dismissal on Thursday Feb. 7th @ 2:00 Parent Teacher Conf. from 3:00 to 7:00 Feb. 7th No School Friday Feb. 8th!

K-4 class pictures have been rescheduled for February 19th. We will use the same form as before. We are postponing it due to all the sickness going around.